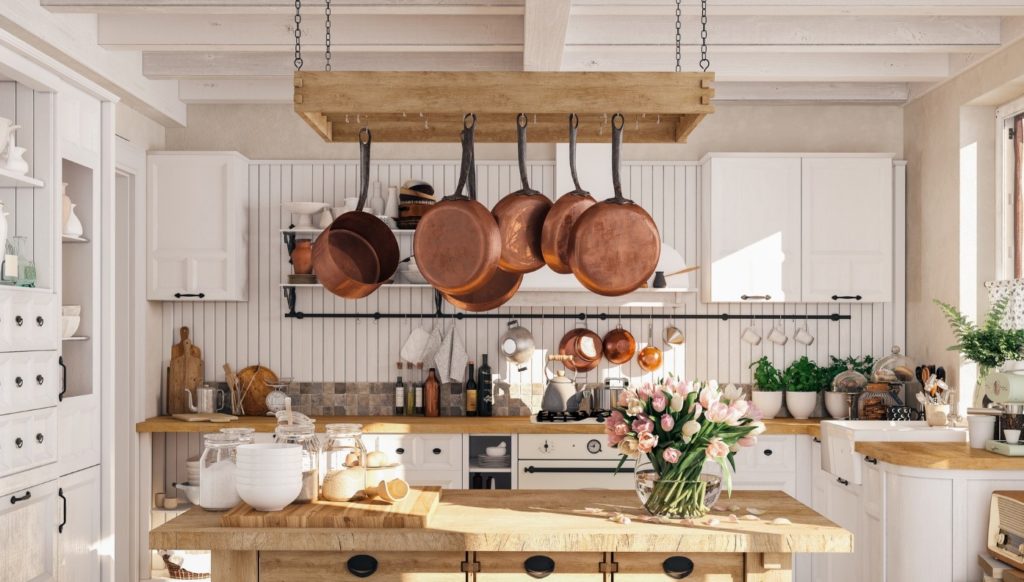 It has been said that "the kitchen is the heart of the home." But what do you do when your kitchen needs an update? Maybe you're just bored with your current kitchen design or maybe you're looking to put your house on the market, but you know the kitchen is going to need some work to bring in top dollar. As a general contractor I always try to form a plan with my clients before we launch a remodel no matter what the motivation behind it is. Most people want to remodel a room to freshen it up or even modernize it without giving up all of the classic features. Here are some ways you can do that in your kitchen.
Floors
Whenever I meet with a potential client to discuss their remodel/redesign I like to have them break the room down into the relevant components. For example, if we were renovating a bathroom, we would discuss floors, countertops, fixtures, and lighting. Every room in your house has 4-5 key parts that will really drive what you want to do in your remodel. We generally ask our clients to start at the bottom and work their way up, so the first thing we address is the floors.
When you're looking at new flooring for your kitchen, you generally want to keep one thing in mind: practicality. Yes, I have remodeled homes that have carpet in the kitchen. There is simply no way to keep something like that clean and it will quickly be significantly more trouble than it could possibly be worth. So if we eliminate carpet from the equation (please, PLEASE, let us eliminate carpet from the equation), we need to look at some easy to clean surfaces for your floors. There's a reason that most kitchen flooring is done in earth tones: it's to hide inevitable stains. The "classic" look is the old linoleum square tiles that became prominent back in the 1880's in England. By the early-mid 1900's, the trend had spread to America and a lot of older homes still have that style in them. There's nothing wrong with this style if the rest of your home has a mid-19th century style to it. However, we don't want to do a classic floor to that extreme if the rest of your home is more modernized. You can do a classic, clean look without reverting to mid-century style.
Kitchen flooring doesn't get any more classic than 18×18 tile. You can pick it up at any home improvement store and can find any color pallet or pattern that you want. It's an excellent way to freshen up the look of your kitchen, but maintaining the classic feel of the heart of your home.
Walls
Remember, we're working our way up, here. When meeting with clients, I generally don't try to interfere much when it comes to their wall color unless they ask me my opinion. Of course, painting any room in your home a random, eccentric color damages re-sale value (ask any Realtor), but when we're talking kitchen walls, there are things you can do to update your look without even touching every wall. A simple backsplash on one wall (generally behind the sink or the stove) gives your entire kitchen a fresh new look without doing any sort of extreme makeover. As a matter of fact, it's entirely possible to update the look of your entire kitchen simply by adding a backsplash to one wall.
When a lot of people hear "backsplash" they immediately get an image of white subway tiles, and while that's a viable option, there are plenty of others out there for you. You'll want to take several things into account when you're deciding on a backsplash (wall color, floor color/style, appliance color) but a basic geometric pattern on one wall of your kitchen is a quick and affordable way to keep your kitchen classic but still give it a much needed update. The complexity of the tile you choose will really determine how much of a statement your backsplash makes. You can find tile in any shape or color that you can imagine but, a standard geometric tile with a complimentary colored grout quickly changes the entire look and feel of the kitchen while maintaining a classic approach.
Countertops
This is the area that will make the most noticeable, impactful change to your kitchen. Making a good decision when it comes to your countertops is the quickest way to completely change the room. There are a TON of options on the market, but none is more classic than the traditional granite countertop. There are a multitude of patterns and colors that you can choose from, but this is the one area where I generally advise people to not try to cut corners. If you're looking to increase your home's value, this is an area that you should see as more of an investment than an expenditure.
When most people hear about granite countertops they recoil and assume it's going to break the bank. Yes, it is more expensive than butcher block and some other "lower end" options, but at the end of the day, granite is well worth the added cost. Not only does a granite countertop give your kitchen a more elegant, high-end look, they are also easy to clean, stain resistant, and simple to keep bacteria free. A slab granite countertop generally runs between $40 and $60 per square foot while granite tile is just $5-$15 per square foot. On average, homeowners wind up spending somewhere between $2,000 and $4,500 on materials and installation on granite countertops. That number may startle you on the surface, but when it comes to home improvements, you get what you pay for.
Your kitchen update can ultimately be whatever you want it to be, but it's most important that you finish the project happier with your kitchen than you were when it began. Don't be afraid to invest the money needed to get it done, and get it done right. Your kitchen can get a fresh facelift without forfeiting the classic touches that you're looking for.